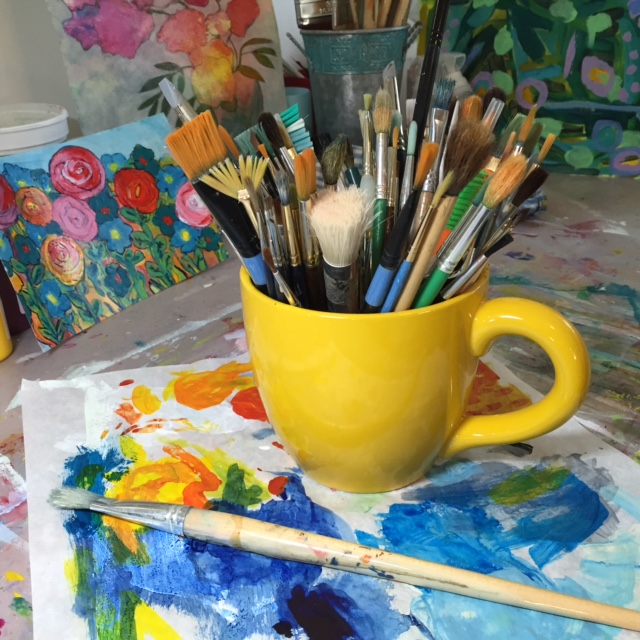 ​I love to paint in acrylics and create mixed media works. Fiber arts fascinate me and I have dabbled in creating art quilts and other works in fiber.  Now some fused fabric is making its way into my abstracts. The process of art making is blissful and I enjoy helping other artists benefit from the world of opportunity to market their art.
After college, I pursued a career in marketing.  I've marketed everything from rock and roll concerts to furniture to psychiatric hospital services.  Now I'm fascinated and excited about the world of opportunity for artists to share their art with the world.
For nine years, I was executive director of a nonprofit art education organization for children. I organized workshops where parents and grandparents were trained to teach art lessons in their children's classrooms.  Each workshop began with a background lecture on the artist or genre being studied.  Years of attending inspiring lectures and learning about art history and art-making techniques inform my work.  To say I am self-taught would be an error.  Besides taking local art classes, I've enjoyed online classes from wonderful artists all over the world.
I am fortunate to live in the charming village of Alameda, New Mexico, which is adjacent to Albuquerque.  The natural beauty of New Mexico's high desert landscape and crisp, clear light are my inspiration. New Mexico has a thriving artist community of which I am happy to be a member.
Here's my Instagram feed! I invite you to follow me there and on Facebook to see my latest work and what's inspiring me lately.