Abstract
nonrepresentational art
Spring Flows Poetic #2
Sap rises in the spring and words flow from poets. Green, fresh newness is everywhere. 12×12″mixed media, acrylic on watercolor paper mounted on wood panel, custom wood frame
Perfect Equation 
Is there one?  Since I'm not a scientist, it's a total mystery to me.  I recently read that Euler's Identity is an equation that comprises the five most important mathematical constants.  Apparently, it's been compared to a Shakespearean sonnet and physicist Richard Feynman called it "the most remarkable formula in mathematics." That appeals to me.
18X18" acrylic, mixed media, collage layers
Sunset Howl
A nonrepresentational painting that had a mind of it's own.  I stepped back to review my work and there he was.  They say you paint what you know, so it was just a matter of time before a frequent visitor to our yard ended up in a painting.
11 x 14″ acrylic, framed.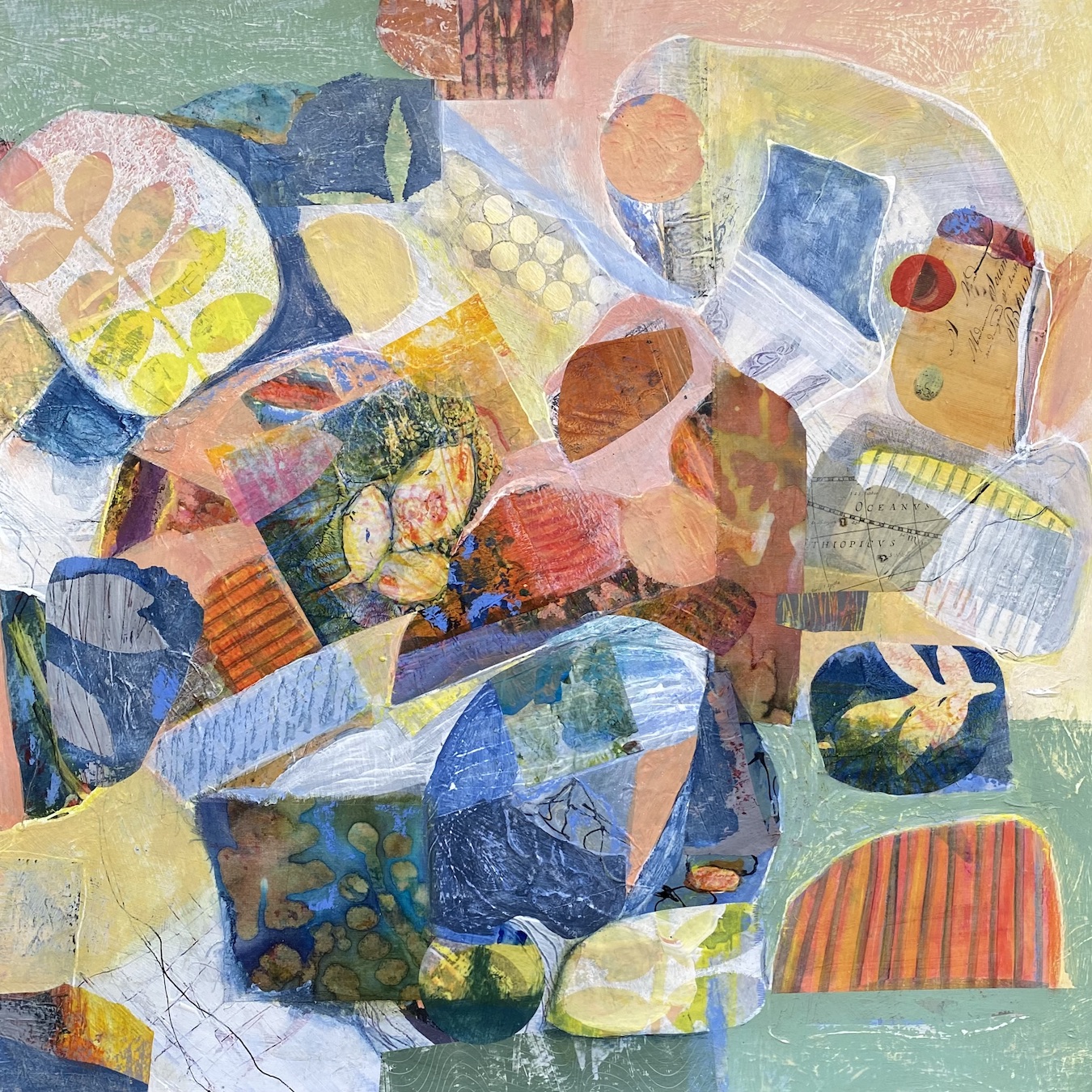 Memories of that summer

Bits and pieces, fragments of memory, snippets of color, flashes of light and pattern.
18" x 18" acrylic, mixed media collage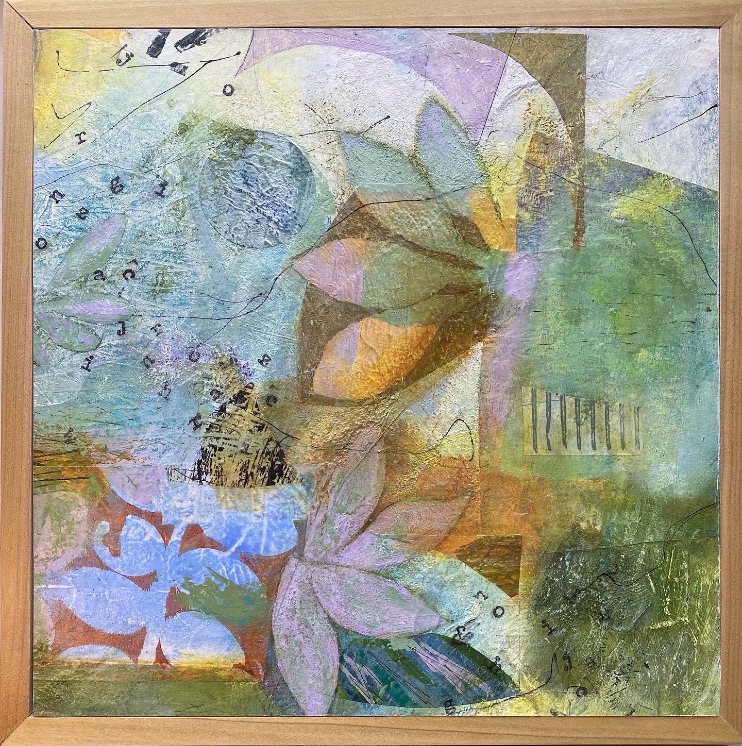 Spring Flows Poetic #1
12×12″ mixed media, acrylic on watercolor paper mounted on wood panel, custom frame
Finding his way though the universe
I painted this with the new generation of space explorers in mind. I see it as an abstracted space ship, but you may see a sailboat.  It's your choice – ship or spaceship. Mariner explorers hundreds of years ago were just as brave as today's off-planet adventurers.  I'm in awe of them all.
18X18" acrylic, mixed media, collage layers 
New Growth
A celebration of spring and summer, with many layers of paint, collage and texture suggesting the wonder and complexity of nature.
18×18" acrylic, mixed media; custom frame  SOLD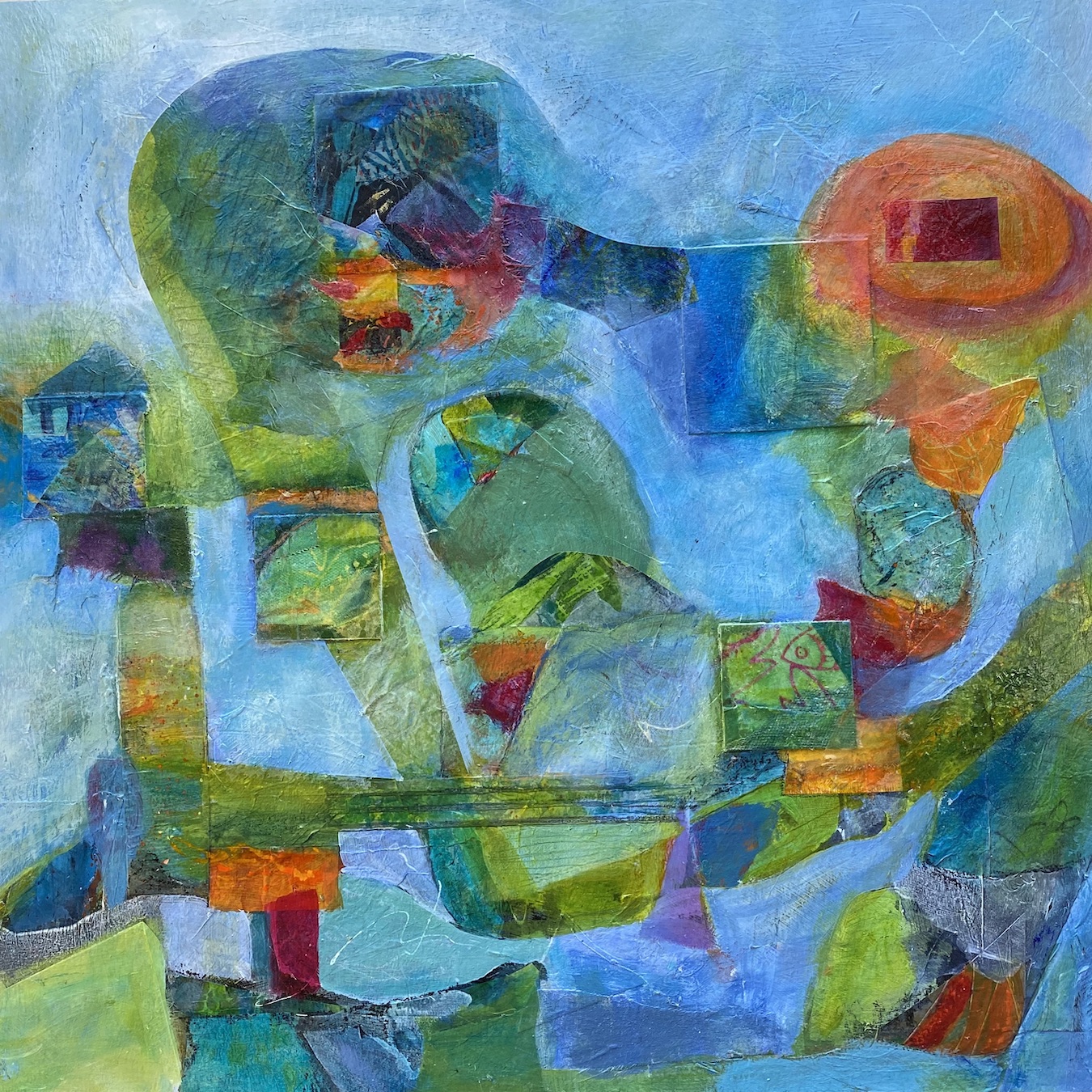 Found on the island
Clear azure blue sky, sparkling ocean, vibrant greens, patterns of land and the warmth of the sun.
18" x 18" acrylic, mixed media collage
Key West      Fort Lauderdale     North Beach, Miami
Living in the high desert of the American Southwest makes a trip to Southern Florida a feast for the senses. Gorgeous natural beauty, unending ocean in sparkling shades of blue and lush tropical foliage are contrasted with miles of buildings, many in clean white with an art deco flair and delightful pastel hues.   This series has been sold.
12×12″ in white wooden frames
Reaching Conclusions Series
As we mull over things in our mind, how do we untimately reach the conclusions we do?  This is my visual representation of that mysterious abstract mental process.
8×8″ acrylic on watercolor paper; mounted on birch panels.
Would look great hung as a group.
Going Places Series
One of the hardest things about the pandemic was not being able to travel.  We had several great trips planned, which were cancelled in 2020, but fortunately, rescheduled and greatly enjoyed. For quite a while, I was dreaming of going places, and decided to paint the feeling of that in these fresh paintings.
The first three have sold, but the last one is available. 10×10″ in black wooden frame. Click on the photo for more details.